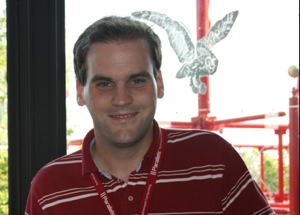 This is B10WH's second in interview with Mr. Thomas Strohe, the man behind WordHosting Days show. Last year he has spoken to Dimitar to tell B10WH.com readers that "Everything Is More In WebHostingDay 2010". This year we have contacted Mr. Strohe to ask him what to expect from the completely rebranded WordHosting Days event which is expected to welcome 4,000 participants.
Tell me is the World Hosting Days 2011 the biggest challenge for the WHD team? It looks you have grown a lot in 2010?
Our WorldHostingDays 2011 in Europa-Park will – again – be the world's biggest hosting event. The event has grown a lot and it is one of our goals that people will once more say about our event that it is one of the best organized shows that they ever have been attending.
Do you expect more participants than WHD 2010 and is the exhibition area called hosting.FAIR bigger than last year?
While the attendance grew from 2,000 visitors in 2009 to more than 2,800 visitors in 2010, we already right now have more than 3,500 people that registered for our event in a few weeks. The exhibition area will not only be way bigger in terms of square meters, but also regarding the number of partners having a booth. In 2010 we had about 60 partners at our hosting.FAIR area, this year about 100 partners will be having a booth in that area.
Do you know any new software platforms and technologies which will debut during the WHD 2011?
All of our partners present their latest developments and future plans, of course. The attendees can discuss these either personally at the fair or hear about them in the talks and sessions. I am not aware of any special debuts at the moment, but you never know what the companies will pull out of their hats during WHD. It often occurs that this is only decided on short notice before the show starts.
I have an impression that WorldHostingDays is changing to become more an event where a larger corporations rather than middle-sized companies are presented. Please tell me do you still have space for companies which are not of large size?
Your impression is not correct. At WHD 2011 you will – of course – see the Microsofts and Parallels again, but we had the biggest growth not at the bigger partnership levels. The biggest growth clearly was at the basic gold partnership level – we will have more than 60 gold partners at WorldHostingDays 2011.
When you look at the agenda you can say "It is a another Cloudy conference". I have seen keynotes titled "From Webhosting to Cloud Computing, Are You Ready for The Transformation". One like this would be held in 2009 or 2010. What do you think, why the word "Cloud" is a keyword for the most keynotes as they are announced?
As long as there is no other really new big thing in the industry, the Cloud will probably remain the major buzzword at such conferences. And there is still potential in fact, because there are many companies and also private users left who don't use the cloud by today. So all the hosting companies will try to make it even more attractive and add functionalities and security and convenience and so on.
Who's new in WHD 2011? Who are the speakers that we will see for the first time and which are exhibitors which debut at the 2011 event?
Not only companies like Dell, NetApp, OnApp or Symantec but also companies like Flexiant, Kryptos, NovaStor, Telemax or Veeam will be partners of WHD for the first time. As I already said, we are really growing with partners of completely different company sizes.
Volker Smid (General Manager at HP), Paul van Brouwershaven (CTO at Networking4All) and Tobias Wann (Managing Director at VeriSign) are just some of our partners that will speak in our main.FORUM for the first time.
People who organize World Hosting Days has significant experience in hosting industry. Can you say that the Cloud computing trend changes the hosting hosting industry in favor of the larger corporate players?
I don't think so. Every small hoster can offer cloud services to their customers, so they also profit from the hype that is mainly produced by larger companies in their huge advertising companies.
In my last year's interview with Thomas Strohe I asked "Is the North American web hosting industry more innovative than the European one?" He said "No". Did you see a major change in the European Hosting market (as far as we could use such definition) within the last year? Please also tell me how did the German hosting industry itself change within the last 12 months?
The one thing that comes to my mind is that they pay much attention to children's protection today. As useful as the Internet has become and as much as it improves our life, you must not forget that there are also many threats for underage persons waiting there. Now hosting companies in Germany tend to include some web filters in their offers in order to protect the children.
Is there anything that we are missing up to this point that should be announced prior of World Hosting Days. Like the Cloud computing camp for example. Did you incorporated that one in WHD 2011 as you did last year?
We will have a new social event on the second evening. It is going to be a typical German party with much beer, nice food and good music. Kind of like the famous Oktoberfest.
Tell me about the Asian event named WHD.asia. Is it different from the European conference and what is its main focus?
Similar to our main event, WHD.asia will consist of different components. There will be talks delivered by industry experts, which will give you a deeper insight into certain aspects and topics of the hosting business. Secondly, our hosting.FAIR will offer everybody just the right forum to present their products and services. Last but not least, there will be social events like the ConneXion party in the evening, where you can follow up on business conversations, make some good deals or just have some nice food before you travel back home.
No matter if you are already represented on the Asian market or still need to enter it: WHD.asia is the perfect opportunity to get in contact with important industry colleagues from Asian companies. With WHD.asia we want to encourage European and US companies to introduce them to the Asian hosting community, or to tighten their connections to local companies, respectively. On the other hand, we also would like to invite Asian companies to take part and give them a forum to meet interesting business prospects. We are happy that big players of the Asian hosting market like Directi already seized the chance and will be a partner of WHD.asia.
What are your expectations of the WHD 2011 and of the changed brand "World Hosting Days". Are you planning to organize an American event as well?
We changed the name from WebhostingDay to WorldHostingDays, or WHD respectively, in order to account for the show's substantial development and growth. Moreover, the new name is intended to imply that WHD's topics cover more than pure web hosting. Complementary industry sectors were already addressed in the past and became more and more important in the course of time.
With WorldHostingDays 2011 we want to set a milestone for hosting events – and I am very confident that we will achieve that goal!
Presently, there are no plans for an event in the USA, but there will be WHD.local at ten European locations in autumn 2011.