Colocation (Colocation Hosting or Colocation Services) is separate niche in the web hosting industry. Colocation is a service market historically developed by telecommunication companies and Internet service providers. When the companies started outsourcing the storage of their equipment, backup data and serve applications to IT  facilities, the data center and colocation center services became a separate market niche. There are different types of Colocation services – from colocation of a single computer (desktop or rack server, trough clustered and cloud setups to hosting IT enclosures cabinets.
The standard, minimum service provided by colocation centers (data centers) is a single server housing which usually features: space in a IT enclosure, one power outlet, access to Internet service, industrial power and cooling infrastructure.
COLOCATION HOSTING SERVICES
– – –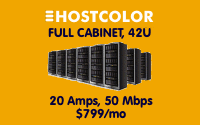 Reliable, low cost Colocation services in our Midwestern U.S. data center, based out of South Bend, Indiana (90 miles from Chicago). The facility location and our 100% uptime, SLA guarantee, Juniper-managed network ensure the lowest possible latency to any point in North America. The customers' equipment is hosted in isolated private areas, APC (Schneider Electric) rack server enclosures, PDUs and appliances. The data center has a fault-tolerant infrastructure with expected theoretical availability of 99.982% (virtually 100%). Our fully-redundant network – AS46873 – 100% uptime, SLA guarantee is connected to Level 3, Cogent, Hurricane Electric, Retn,net, Microsoft, Telus, Twitter, US Signal, TDS Telecom, ViaWest, US Cellular, Wins.net (Wisconsin Independent Networks), WiscNet, Blackfoot Communications, SupraNet, Cedar Falls Utilities, CTS Telecom, Midcontinent Media, IPTransit and many other Midwest U.S., national and international networks.
– – –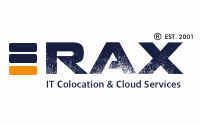 If you need to colocate any servers or an IT equipment in Europe RAX Colocation is one of the best options. We serve as IT colocation provider since January 2001 and deliver services from more than 20 IT facilities across Europe. RAX leverages on Equinix data center ecosystem to deliver Colocation and Cloud services with premium network Service Level Guarantee. We are a Local Internet Registry (LIR) and a RIPE member with Autonomy System AS199364. The Colocation services start with 1U colocation, priced as low as €69/mo. We are connected to a number of internet exchange and offer a number of connectivity options to RAX clients. Managed Services that include both remote hands, system and administration start as low as €30/month and can be added as optional services to any Colocation plan.
– – –
ADVERTISE YOUR WEB HOSTING COMPANY HERE?