Dedicated Hosting (Dedicated Servers or Bare-Metal Dedicated Servers) is one of the oldest and niches in the web hosting industry. Dedicated Hosting refers to a IT hosting services delivered from a separate physical server leased by any web hosting provider to one customer only. There is no computing resource sharing with the Dedicated Hosting and the user operates the physical server alone. Term "Bare-Metal Dedicated Server" emerged when virtualization technologies allowed companies to create Virtual Machines which are complete simulation of a physical server. Therefore "Bare-Metal Dedicated Server" is a term used to define that the provider installs and provisions a physical machine to the customer.
The standard, basic Dedicated Hosting service features a stand-alone physical server, internet connectivity and IP settings, an Operating System installed on the machine, as well as any remote management console.
PHYSICAL DEDICATED SERVERS
– – –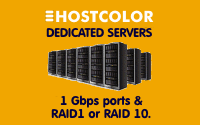 Host Color (HC) offers hardware-redundant Bare-Metal Dedicated Servers with various customizable options, hosted in our Midwestern U.S. Data Center, based out of South Bend, Indiana (90 miles from Chicago). The facility location and our 100% uptime, SLA guarantee Network ensure that HC delivers a service with the lowest possible latency to any point in North America. All Dedicated servers feature IPMI 2.0 (KVM over IP) remote management and are connected to 1 GigE physical ports on a fully redundant, SLA guarantee network, with North American peering. Host Color's fully-redundant network – AS46873 – 100% uptime, SLA guarantee is connected to Level 3, Cogent, Hurricane Electric, Retn,net and 70 other local, national and international carriers and networks.
– – –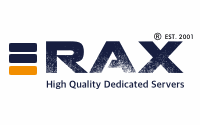 RAX offers variety of  Dedicated Hosting Services in more than 20 European cities and data centers. We are one of the longest-running dedicated hosting providers in Europe. RAX leverages on Equinix data center ecosystem to deliver Dedicated servers with virtually 100% uptime and premium network SLA. Our main services locations are Vienna, Paris, Sofia, Athens, Zaragoza, and London. RAX is a Local Internet Registry (LIR) and a RIPE member with Autonomy System AS199364. The Dedicated Hosting services start with Dedicated Start, our entry level dedicated server. It costs €129 per month and features Intel Xeon E3-1230v CPU, one 500 GB or 1TB hard drive, 8GB RAM, IPMI (KVM over IP) remote management. Most RAX dedicated servers are connected to 1GBs (with some set at 100 Mbps logical ports). A Fully Managed Hosting service that offers up to 4 ours of technical administration per month cost €75/mo is an optional services to any dedicated server plan.
– – –
ADVERTISE YOUR WEB HOSTING COMPANY HERE?