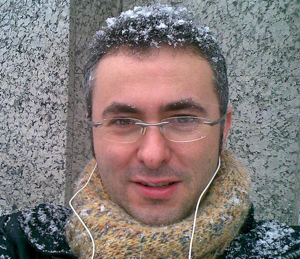 I met Diego during the WebHostingDay 2009 in Germany. My first impression was he was very open and friendly person. I asked him what did he do and he explained me that his company was producing a Cloud computing class software. When I went back to the hotel room the same day I began searching for other similar solutions produced by European software companies (this was during an EU based event) and I wasn't able to find that many. So I've decided to ask Diego to give me an interview, to talk about Cloud computing, and of course about  his company. Then I begun preparing for this interview and started browsing the web, to find some information about Diego Parrilla. Information which would help me to find out more about the person I was about to interview. Let's see whether I made it this time.
Hi Diego, it was good to meet you. And it is good talking to you. So, tell me how do you moved to the clouds? I've seen you see yourself as "Cloud computing evangelist". I'm curious when did you get yourself familiar with Cloud computing?
I was the Professional Services Manager of Amplía Soluciones. We developed a platform for Telcos heavily based in distributed and grid computing. Late in 2006 I discover Amazon EC2 and started to use it as testing platform for Amplía and for my own pet projects. I resigned in Amplía in late 2007 and started to work in 'stealth mode' for Abiquo, redesigning their grid computing platform to become a cloud computing. And that's why I'm here.
Something happened in mid 2008. I get a phone call of somebody from Amazon Web Services, and he asked me what was the status of the Cloud Computing in Spain. I was shocked with the question because obviously they should know more about it than me. Then I realized that Evangelization (Evangelism, of course figuratively) was key in the Hispanic world. The "Cloud Computing Evangelist title"? It's a SEO strategy a colleague recommend me.
What did you do before getting done to Cloud computing? Have you been involved in development of any enterprise applications and software architectures?
I have been involved for almost 15 years in software and product development. Most of these projects, because of their nature and their complexity needed distributed computing (first) and grid (later) computing (later). Scalability was always an issue, and most of the times we could not use standard technology to solve our problems. In 2004 I became a partner of Amplía Soluciones. We developed a Machine-to-Machine (M2M) platform for Telcos and Big Wireless Carriers. In late 2007 I resigned and joined Abiquo to build what we think a cloud computing has to be.
My experience with software technologies? A lot of Java, C++, middlewares all around, and lot of open source of course. I have also trained people in the execution of Agile Projects with Scrum and Lean.
Now tell me more about Abiquo. Is it a company created to produce Cloud computing generation technologies?
Abiquo is a spin off a Grid Computing research department of the Politechnic University of Catalonia. We started in 2006 developing a Grid Computing framework called AbiNtense. But we soon realized that Grid Computing frameworks (and probably development frameworks in general) is a extremely hard market. So we move our focus towards Cloud Computing technologies.
Our vision is to let the users to choose. Choose the technology, the vendor, the timings… We develop a Cloud Computing Platform -AbiCloud- that give the power to the users.
I've see that you offer AbiCloud. Tell me more about this type of Cloud and its architecture. It is Linux one, isn't it?
Well, not necessarily. Abicloud is composed of two main components: The Abicloud Server is the core management software running in centralized servers: it's the command control. This software has been developed in Java and has been succesfully deployed in Windows, Linux and Solaris.
The other component, the Abicloud Node, is an agent installed on each 'Cloud Node'. With this agent, an hypervisor must be installed. We support VirtualBox, XEN and KVM. This Cloud Node software is linux dependant (well, we are doing some experiments with VirtualBox and OpenSolaris). We also support VMware ESXi, but in this case the hypervisor is an embedded Linux OS.
Abicloud integrates with third party storage Software like Sun OpenStorage, NexentaStor. It can work with even simpler configurations like ZFS on Solaris/OpenSolaris or LVM+iSCSI targets in Linux. Abicloud is like a big 'enabler'.
What kind of communication link do you use to connect load-balancer, web servers and database servers? Do you use Fibre Channel, iSCSI or InfiniBand?
We are using iSCSI as our main communication channel. With the new 10 GBit ethernet communications, we think that most of the traffic will pass through these new Fabrics. Some customers has requested FC as an option in the platform. We hope that it will be an option very soon.
Has a stable, commercial version of AbiCloud already been released or it is still in development. Please also tell me what kind of equipment does anyone need to deploy AbiCloud?
Abicloud 1.0 will be released in October 2009. It will include three different versions:
Community: This is the version already available to download in our site. It's a complete platform, and it's the perfect tool to enter and understand what is the private cloud concept.
Enterprise: This version will be focused on the needs of enterprises with the Private Cloud in their goals.
xSP: This version complemets the Enterprise version with some key features that Service Providers need to deploy a Public Cloud.
Abicloud can run on any commoditized x86 hardware. If you just want to test drive our platform, you can do it with really modest hardware specs. If you want to deploy a private or public cloud, then you need to take it seriously. We can help with the deployment of this cloud, of course.
I've seen that you are connected in on or other way to Nubeblog.com. Is this blog yours and what do you write about?
Yes it's my blog. It's the most popular Cloud Computing blog in Spanish. It is one of the activities I perform to evangelize in the Hispanic world.
How do you plan to position AbiCloud on the market. As a IaaS solution or as a platform? Do you plan to offer services on top of AbiCloud as a SaaS provider, or you will stay as cloud software producer?
Abiquo is a software producer. Abicloud is a software product. It's a software product that helps your to abstract your existing hardware and become a IaaS provider (no matter if external or internal).
How does the Spanish market adopt the idea of Cloud computing. Are Spanish It companies looking to deploy and use cloud architectures?
Spain is a difficult market. It's hard to find early adopters because cultural reasons. But we have seen a lot of interest in Cloud Computing (not only in our platform), and there are a lot of initiatives around it. Some big Spanish companies are launching Private Cloud Computing initiatives, and I hope this market will ramp up in the near future.
OK. Final question. Would you reveal more about AbiCloud's pricing? How do you price your solution and how much will cost to be deployed?
The price range will start at 0€ (community versions) and we will try to keep it on average €12 per month. There will be several options available. In october we will launch our commercial offering. Regarding the cost of deployment of the solution, it depends on a lot of factors, but it will be similar to the cost of virtualization and/or hardware consolitation of a data center.
Thank you for your time Diego. It was good to talk to you. Once Abicloud is already released we would present it here in B10WH.com.