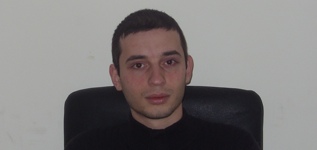 "We do not consider "Cheap" as an option even in our marketing campaigns", explains Martin Andreev a VP of Operations of HostColor.com, a well-known middle-sized web hosting provider. He adds that his company can not be found in any Search engine by keywords like "cheap hosting" or "cheap web hosting". The company he runs has been around for more than 12 years and it's managing team has been part of the rapidly changing web hosting industry. We are speaking to Martin about Host Color's business and about his view about hosting industry's developments.
Hi Martin, good to have you here. If you have to describe Host Color with a few words, what would you say? Is it a "Shared Hosting provider", is it a "cheap hosting provider" or anything else?
It is my pleasure to do this interview for B10WH. Thank you for the opportunity. Speaking about Host Color I would say just "Quality Web Hosting". It could be also "Shared Hosting", "cPanel Hosting" or "Quality Dedicated Hosting", but not "cheap". I don't understand "cheap" as "low in price". In web hosting "cheap" does not refer to the price. It refers to unreliable. I know that many people would disagree with me, but just take a look any of those "cheap hosting" offerings. They are not based on the stability of the hardware systems, redundancy of the network or on how does the hosting company's support work. All they say to customer is "you can get it cheap". And "cheap" means a lack of standards. Cheap means that someone got a budget server or even a desktop computer with one hard drive and put a few hundreds of virtual hosting accounts on it. This is exactly what any reputable web hosting company must not do!
"Cheap" is not an option for Host Color. Nothing is cheap and  we do not do cheap. We do "low cost", Quality Shared Hosting, VPS and Dedicated servers. Hope that this answers your question, despite that I would not use such words to describe Host Color's business.
What would you say then?
It is on our website. We say we do "Web hosting about people, not about websites".
How important is Shared Hosting in your customer portfolio?
It is quite important. Our company entered into the web hosting market as Shared Hosting provider in 2000. I wasn't named Host Color at that time, however. HostColor.com was registered in January 2002. We started with dedicated servers hosted in what was RackShack, at the time, a company based out of Houston, Texas, that doesn't exist anymore (It entered to mergers to become part of ThePlanet). What I know from those who founded Host Color that it wasn't a reliable dedicated server provider so we moved quickly to set up our own IT hosting infrastructure in South Bend, Indiana.
Why Indiana? It doesn't sound like a popular location for a web hosting provider?
It is very good however! We are very close to Chicago (the ping time is 4.5 ms) and the location works great for all American customers, no matter they are from East coast, West coast or live in the central states. It is great location for Canadian customers as well. The RTT (Editor's note: Round-trip time) is low for Europe and Asia as well.
You claim to offer redundant network. Which provider do you have?
We are connected to Level3, Cogent and to Internap through a local ISP. We are also working to add two more provide or quality bandwidth in Q1 – Q3 of 2013. One would provide access to European peering to our customers, while the other one would shorten the RTT to Asia. We are also using a few smaller IP bandwidth providers which operate in Midwestern U.S.. Our network is reliable and we guarantee 100% network uptime in our Service Level Agreement. Most of our Shared and Dedicated servers customers are currently enjoying more than 1300 days up-time. However I should say that there is more to be done and we are working on it.
I saw that Host Color manages customers' accounts with a control panel named NextColor. I wasn't able to find anyone else to using that one. Tell me more about it. Is it a proprietary technology?
Yes. We developed it in 2003 – 2004 and it was one of the best server automation software on the market at the time. However we decided not to release a commercial distribution and to use it in-house only. This wasn't the best decision for other control panel itself, because we did not work hard to update it the way commercial hosting automation panels are updated. So in 2010 we have decided to migrate all customers of ours to cPanel/WHM. We still have a few thousands of customers on NextColor, but we decided to migrate to cPanel. I know that we have plans to rebrand our control panel and to release a commercial version, but this would happen in 2013 – 2014.
Why? Do you say your control panel isn't good enough?
I don not say that! It is an excellent web server automation software. It is stable, secure and easy to use. However we are not a software producer. We are a web host and we decided to focus in providing high quality web hosting, not in developing a hosting automation product. We are spending on improving the network, on testing and then implementing the best hosting automation standards and to continue providing the best possible customer support. These are very different from software development.
There is one more thing. We have seen that cPanel has become truly great software automation product within the last few years. Most web hosts abandoned the server management systems they used to use to migrate to cPanel. If we didn't migrate our customers to cPanel we'd loose value.
How would any hosting provider loose value if they use Plesk or any other control panel, not cPanel for example?
cPanel has become the most popular server automation standard in Linux hosting. Having Enkompass they are now a player in the Windows hosting market as well. Plesk is also good, we offer it to VPS customers hosted on the Parallels Virtuozzo Containers virtualization platform. However we use cPanel/WHM for Shared hosting. It is indisputably the best automation product for Shared and Reseller Hosting, which means that it is the same for managing a stand-alone dedicated servers. I have a good news for our customers as well. We have begun offering cPanel Cloud Hosting.
Isn't it something that any web hosting provider already does?
Not really! Take a look at Cloud hosting offerings announced by different providers and you will that they are Virtual Private Servers delivered from any Cloud computing platform. What we do is a High Availability cPanel based virtual hosting. This means that we offer Shared Hosting accounts hosted on a Cloud. We have a cluster of servers, which feature load-balancing and High Availability and the accounts of our Shared Hosting customers reside on top of the cluster. It is an excellent service, because our customers save money and time on software licensing and on virtual private server management. We use a technology called SingleOS Linux Cloud to automate cPanel Cloud management and provisioning of virtual hosting accounts on the cloud. It is a new technology and we were one of the first to implement it.
I'm skeptical when it comes to Cloud computing. Nowadays everyone is speaking about it and most providers claims to have it. At the same time it requires a huge investment to build a Cloud computing hosting service? So how could a small or a middle-size d hosting company afford to own a cloud computing infrastructure ?
Well, the major providers want consumers to think that they are the ones who could build and operate a stable Cloud computing hosting infrastructure. However the reality is different. It requires an investment to build a Cloud infrastructure, but it is not a mission impossible. I'd say that any company would start with an investment of $50,000 and to scale its Cloud infrastructure up, depending on the growth rates.
Host Color Cloud is not a monster infrastructure. It is growing and the growth rate depends on customers' demand. So if anyone says that Cloud computing is a privilege for a companies of large scale like Amazon, RackSpace, etc. then you know one's opinion is biased. You can see a that more and more web hosting providers adopt some kind of Cloud computing technologies. You can see a growing number of Cloud enablers. So without claiming to be an expert, I can say that we see a lot of competition in the Cloud Hosting market. It is not a competition of corporations however.
Let's get back to Host Color's business? How do you see your company in the today's very competitive hosting market? What do you do to attract customers? I didn't see much of an advertising for Host Color, compared to some other hosting providers.
We have our own sales and marketing channels and they work good for us. We do not heavily advertise our Shared Hosting, because we do not do "unlimited" disc space and unlimited everything Shared Hosting. We are working to get customers who need stable and customized web hosting environment, which means VPS and Dedicated servers. In the Shared hosting niche we recommend and are trying to attract web designers and developers who are using specific content management systems like MODx, CMS Made Simple, TextPattern, bEvolution, Drupal, Joomla, Typo3. This is not something other do not do, but we have a tradition in supporting different Open Source CMS.
Do you do any Affiliate program?
Yes we do and we offer good payout rates, because unlike Shared Hosting providers Host Color is a popular for its Virtual Private Servers and Dedicated Hosting services. But we don't do crazy, unrealistic commissions on Shared hosting like $100 or $120 per sale. Our standard affiliate commission is 25% of the sale amount. The lowest commission is $11.97 for Blog Hosting plan. The highest one is a $199.75 per a sale of Dedicated Hosting Power, purchased on monthly contract. However we have customers who buy dedicated hosting services on annual basis, which means that an affiliate could make $1,437 if they refer a customer, who buys a Dedicated Power, dedicated server.
Would you sale Host Color if any bigger web host makes an offer?
I don't know. This is not my responsibility. Owners must decide on any such offerings. What I know from them is that we would never sell our customers. I have seen a lot of statements like "We buy customers" or "Sell your customers". It is ridiculous! Host Color has more than 10 years of  business history in the web hosting industry. Our brand and our reputation bring business. So I presume that the company would consider any buyout offering, only if it accounts Host Color's brand reputation and business history, not just our annual revenue.
Thank you very much for this interview Martin.
It was my pleasure. Thank you for your  time and your business. I'm glad to be one of the hosting industry professionals featured at B10WH.