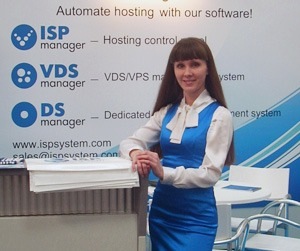 I have made myself known with ISPsystem during the HostingCon 2009 conference in Washington DC where the company was among the Silver Sponsors. The first thing I that made a difference was their logo. I like it and It made me to pay some attention of this software producers. When I went to their website I've found that they have complete web hosting automation software line. Then I got in touch with the company asked Tatiana Shaidorova to present ISPsystem.
Hi Tatiana, good to meet you. Your company produces web hosting control panel, VPS management software, dedicated hosting system, DNS manager, IP manager and even a billing solution for web hosts. This is quite impressive, but shall ask you isn't it too risky for any software developer to compete on any of these niches in the hosting industry? Why didn't you focus on any of the above mentioned markets?
Our mission is to provide and design the web hosting automation software complex. The core of the company is a dedicated team of highly skilled programmers who work hard at fulfilling this mission. It is our advantage over competitors. Our products are integrated with each other. So it is very convenient for clients to use web hosting automation software line of one developer.
Which us your best selling software product?
ISPmanager is the best selling product. It is obvious. The hosting control panel is the most useful software for hosting automation.
I have found that one of the reputable UK hosting providers UK2group already offers "ISPmanager PRO". So is ISPmanager the most popular one? How many customers do you have on the UK and European market?
As I mentioned before ISPmanager is the most popular one among our web hosting automation software line. We are novices on UK and European markets. But I am proud to say that we already have a lot of customers on this market. Our products are the most popular on the Eastern European market (Russia, CIS countries). We have been on this market for 5 years. ISPsystem software has been pushed on international markets only for a year. It is not a long period. But we have obtained the results. Our client base increases every day. ISPsystem software is gradually becoming worldwide products in hosting industry.
There some differences between web hosting markets in Europe and North America. In U.S. Shared Hosts sell unlimited, the Americans prefer to use more cPanel then Parallels Plesk panel. However Parallels are stronger in Europe. What are your advantages and how do you compete each of these software producers? If I was prospective client what would you tell me to make me to sign with you?
ISPmanager is easy to use and fully featured control panel with the user friendly interface.  It has a set of advantages. One of the greatest advantages is high efficiency with low system resources consumption. ISPmanager is easily installed without changing operating system configuration. Also the control panel can satisfy the requirements of both novice users and advanced server administrators. It provides multi-level access to administrative features for increased management flexibility. ISPmanager is updated regularly. We have a reasonable price policy with progressive discount system. I think these are our main advantages.
Let me now ask you about another product of yours – the Reseller level of ISPmanager. How important is this software application for you. Does it allow you to get more web hosts as clients?
Our Partner Program is very attractive for our clients. Partner Program includes low prices and flexible progressive discount system. Surely, it allows us to get more web hosts as clients.
You have said that your company has already debuted a Windows version of ISPmanager. Do you think that it will become more successful that the Linux one?
It is very difficult to predict what will be more successful – ISPmanager for Linux or for Windows. The Windows-based hosting market is currently developing. According to our observations, Microsoft is doing its best to develop the Windows Platform. At present, there are not so many Windows-based products. So, we hope ISPmanager for Windows will be successful on its niche in the hosting industry. We have already launched only test version of the hostign automation software for Windows. Now we are waiting for client reviews and wishes in order to improve ISPmanager for Windows.
I have reviewed your Virtual Private Server manager called "VDSmanager". Can you please explain how do you integrate this virtualization technology with OpenVZ and Xen?
VDSmanager runs on two different operating systems – FreeBSD and Linux. VDSmanager for Linux is a user friendly web based interface that enables to create and manage different virtual machines based on popular server virtualization technologies like OpenVZ and Xen.  Xen and OpenVZ don't have GUI. So VDSmanager for Linux is the best solution for VPS management using OpenVZ and Xen. VDSmanager for FreeBSD is available in two versions: VDSmanager and VDSmanager-SMP. VDSmanager is installed on a mono core processor machine. VDSmanager-SMP on multi-core CPUs.
Which software product of yours is most interesting for the web hosting providers?
It depends on kinds of web hosting business that hosting providers are going to render. Solutions for Shared Hosting – BILLmanager, ISPmanager, DNSmanager, IPmanager (optional); Solutions for VPS Hosting- BILLmanager, VDSmanager, ISPmanager, IPmanager (optional); Solutions for Dedicated Server Hosting – BILLmanager, DSmanager, ISPmanager, IPmanager (optional).
I'm interested to learn more about DSmanager. You promote it as "absolutely unique solution". I didn't see many similar software solutions. Can you please tell me more about DSmanager?
Yes, DSmanager is the absolutely unique solution. There are no many similar software solutions. DSmanager is a Dedicated Server management system. It provides centralized management of dedicated servers, allows minimizing connectivity, hardware and operating system installation, support, maintenance expenses, and maximizing the uptime of the network. DSmanager makes the process just a few clicks away.
DSmanager advantages:
• All dedicated servers are stored in a single base. The search for servers can be performed by their type, operating system and location.
• Users can install operating systems, reboot the servers, connect and disconnect to the network via single control panel.
• DSmanager supports power and network switches, enabling to use them with dedicated servers, once they are registered in the system.
• The panel can be used to automatically assign IP addresses from a pool of available IP addresses, simplifying their operation.
• Multilevel permission system: Admin, Reseller, Dedicated Server Owner.
• Open Application Programming Interface (API) enabling to use all features of the control panel, to integrate with various billing systems, etc.
If you are focused on Dedicated Servers lease and Server Collocation, DSmanager can help you to automatize business processes and provide new services to your customers.
Some software producers sell support, others include a basic level of support in their service plans. Please tell me how do you provide support. It says 24/7 on your website, but do your customers shall pay additional fees to receive technical support?
Our support is 24/7. In all cases when a license is ordered by the User directly from ISPsystem without participation of the Partner, technical support of the Software Product is rendered in full scope free of charge (additional works and services are paid for separately).  In other words, in most cases support is free.
Your pricing is in Euro. Do you sell in euros on the U.S. market and how do you deal with the weak dollar if you need to sell the software licenses at the same price in USD?
Minor changes in the dollar exchange rate are not so important for us.
Do you have any plans to enter in the Cloud computing market and if "yes" what kind of Cloud software would you have?
We are planning to go forward in this direction. But now I can't say anything about it.