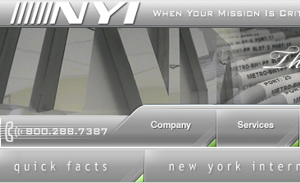 New Your Internet (NYI.net) has been ranked as the most reliable web hosting provider in Netcraft's February survey. The company has failed to respond to only one of the requests made by Netcraft's performance collectors throughout the month.
NYI.net is followed by UK2, Server Intellect, WebFusion and Pair Networks, each of which failed to respond to 2 requests in February.
By winning in February New York Internet has stayed on top of the world's list of the most reliable web hosts for the third consequent month. The company was also ranked top in December 2008 and in January.
The NYI.net is established in 1996. The company's data centers are located in 100 William St., 21st Floor and 25 Broadway, in the hart of Manhattan. The company offers dedicated hosting, collocation and virtual web hosting. The NYI.net's main website is based on Apache/FreeBSD.
The web host's services are among the expensive ones on the hosting market. A dedicated hosting service based on Intel Pentium E Dual Core 2.0GHz, 1GB RAM, 80 GB SATA HDD, 5 IPs, FreeBSD 7.x OS is priced by New York Internet at $193/month with $567 set-up fee.