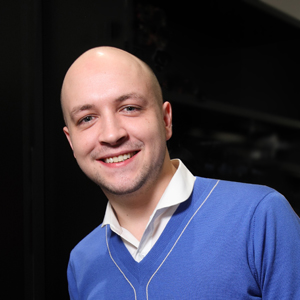 Russia is a huge web hosting market and one of the countries with developed software market and IT industry. I have always been very curious about Russian web hosting market and its developments. So when I met Alexander Ovchinnikov Of Masterhost.ru I knew I was gonna interview him. And despite that I missed to see him at the Parallels Summit 2009 in Vegas where both us attended (it was my fault), I've finally made it. So here he is.
Hi Alexander, Can you please introduce Masterhost.ru to Daw's readers (The interview was made for Dawhb.com blog, but I decided to published it in B10WH). How long have you been in business? What kind of hosting customers do you target?
Our Company was founded in 1999 and now it belongs to holdings.masterhost the biggest hosting provider in Russia and CIS.
We offer the wide spectrum of hosting services. Our product range includes virtual hosting based on the Unix and Windows platforms and Virtual Dedicated Server (VPS), location and lease of servers, lease of Microsoft applications (Software as a Service – SaaS), registration of domain names in different zones. Besides, we offer services of access Internet for providers of wireless and broadband access to World Wide Web to end users.
For years .Masterhost services were provided to more than 150 thousand people. Among the Corporate Clients are both private users from all regions of Russia and CIS countries and legal entities, comprising of big public and commercial companies, communication operators, Internet providers and others.
One of our foreground tasks in developing services within our hosting is integration of web-statistics from the SpyLOG Company (belonging to our Holding) with the .Masterhost hosting platform. Today all .Masterhost clients have access to free statistics services. They include reports with detailed visiting statistics by different parameters.
In 2008 the .Masterhost Company became a laureate of the RUnet Prize in nomination "Technology and Innovation". This RUnet Prize was created in 2004 and is a national award in the sphere of high technologies stimulating companies operating in high technologies and Internet and rewarding for distinguished services in information technology and electronic communications.
Your starter shared hosting plan costs around $4/month. Is it one of the cheapest ones on the Russian Market and it offer "unlimited transfer". How do you deal with this? Do your customer use their data transfer quotes and d you impose any restrictions on monthly traffic?
Competition among hosting providers motivates them to launch new tariffs with high functionality and minimum possible price on the market. Nevertheless, the today user choosing among hosting providers makes a reasonable decision and relies both on low price of services and stability and professionalism of the provider. These qualities help our company to be among the leading ones on the hosting market for many years.
Virtual hosting is used here not only by persons and small-size private companies but also by large enterprises if their business is not inseparably associated with Internet, i.e. the site does not generate a lot of traffic. In the hosting tariff plans traffic is offered to clients free of charge provided the following conditions are met:
Incoming/ outgoing traffic ratio is over 1:4;
Summary foreign incoming traffic does not exceed summary Russian incoming traffic and summary foreign outgoing traffic does not exceed summary Russian outgoing traffic.
There are a few restrictions for virtual hosting, i.e. specific list of used software (applications, libraries and the like) and its settings which are determined by the provider administrators.
Do you offer Plesk only and if "Yes" can you please tell me what are the advantages of Plesk from your point of view?
To manage (administer) virtual or physical server we suggest our clients using a specialized program – the Plesk server control panel from Parallels. Thanks to simplicity of use the Plesk control panel server control functions can be performed by unskilled administrators. Using the control panel the administrator controls subsystems, applications, domains, users, and he or she can locate any site, create mail boxes for his or her colleagues and administer server parameters by analogy with virtual hosting services.
You are one of the very few web hosts that I know, who offer free web hosting for students? This is something people always appreciate, but does it pays… I mean  Why do you do this to support them and to increase brand's awareness?
Education is the most important sphere of human activities providing forming and building-up of intellectual potential the need in which is growing by hyperbola. Internet must be a part of the program developing innovative education, a network for updating educational process.
Today we offer two free tariff plans within the educational program named "Student" in cooperation with Microsoft based on the Windows platform and "Education" based on the Unix platform. The "Student" tariff plan of .Masterhost offers free hosting services to students of institutions of higher professional education for educational and research purposes.
The "Education" tariff plan services are offered to both educational institutions and natural persons creating and supporting non-commercial projects associated with development and education subjects. Free platforms use conditions do not differ from the paid tariffs: professional equipment, 25 hour support, back-up copying and full range of services which the company offers to its clients under its motto "professional hosting".
Do Russian site owners prefer .RU domains for primary web address for their sites? Can you rank the most popular TLD's in Russia, or at least the ones your customers use?
In fact the users of Russian Internet prefer to register their sites on domains in the RU zones. Today the total number of registered domains in this zone amounts to 2 millions of domains.  The .Masterhost clients registered 85 000 domains in the Russian zone for the period the Company has been operating (since 1999).
The second most popular domain zone for our corporate clients is the international zone .com. Today .Masterhost  registered 10 000 domains in this zone.
Is .EU gaining popularity in Russia?
There are geographic restrictions in registering domains in the EU zone. The company must have its office or the main place of business in the territory of the European Union and the natural person must reside in EU. Russia does not belong to the European Union yet, that's why domestic companies and citizens of our country can not register their sites in the EU zone for the time being.
I saw on your website you had at least 8 different seminars in 2008. Did they helped participants to better understand the topics you discussed and do you think that conferences help web companies to attract new customers?
Under present-day conditions of strong competition any telecommunication company must not only provide its clients with services but also show how to use these services most efficiently. At seminars held by our company our clients not only obtain theoretical knowledge but also get practical recommendations on service management, answers to questions on technical problems occurred in their business and unique methodical materials extracted from reports. Participation at seminars gives opportunity to exchange experience and make more balanced and sound decisions in choosing services of our company.
You have nice priced VPS hosting plans. I saw you use Virtuozzo Containers as virtualization technology? Why did you choose Parallel's virtualization technology?
To realize VPS services we focused on reliable and regularly updated software which is easy to use and optimal in distributing resources of physical server among users of virtual dedicated servers. All virtualization systems have their advantages and disadvantages. Among virtual dedicated server support environments which we considered the Virtuozzo technology is the universally recognized leader.
This technology allows setting dynamic division of resources, creation of functionalities like parameters of physical server and combines flexibility in setting and control. Besides, use of this technology allows to minimize costs of the company spent on hosting services (compared to lease of physical server).
A few percents of resources of physical server are spent on virtualization using this technology, the others are to users. The used percents of resources are taken into account in filling physical server with VPS. These few percents include reserve for losses in virtualization and server control system.
Do you think that OS virtualization offers more advantages to consumers than WMware's Virtual machines, which are based on full virtualization techniques?
These are different technologies and each has its drawbacks and advantages.
What kind of web hosting Russian site owners want much – Shared, VPS or Dedicated. Which one of these do grow faster?
According to statistics of our company more than 50% of clients choose virtual hosting being the cheapest and most popular. To administer its site the client does not need any specific knowledge, all support is given by the hosting provider.
Among our corporate clients the next most popular is lease and location of server (collocation and dedicated hosting).
The users of collocation administer their servers by themselves. The reasons are availability of a technical specialist in a company and sometimes a corporate procedure according to which access to internal resources is given only to insiders.
The most active users of dedicated and collocation services, as we think, are our operators, advertisement agencies, internet shops and suppliers of goods (dealers and distributors), game servers and the like. Ti sum up, they are representatives of the corporate market (mainly medium and big size business).
The "Virtual Dedicated Server" service is rather promising from the point of view of its functionality. The companies which "outgrew" usual virtual hosting but are still not ready to switch to "dedicated" server involving more financial expenses  for lease of equipment, support and administration, choose VPS. VPS in its essence is the intermediate option between virtual hosting and dedicated physical server.
We can point out that about 25% of users of "Virtual Dedicated Server" service of.masterhost "overgrew" virtual hosting.
VPS service is given to our clients on the Unix and Windows platforms. This technology is based on virtualization from the Parallels Company.
What is your projection for Russian hosting market and for web hosting market in general?
The main development trends of hosting market today are that conventional methods of hosting when advantages of a hosting provider are in tariff parameters (disc or mail space, number of mail boxes, address to data bases and the like) "fade" into the background.
At present potential clients choose tariffs to solve specific tasks including business ones in choosing among hosting providers.
Thus, hosting is often being considered in combination with suggested software or preset services by this or that tariff. First, we speak about ready decisions integrated into the hosting platform: professional scripts , modules, and systems.  They range from guest books, chats, forums to contents control systems for creation of online projects, for example, internet shops.
Thus, users of our company can install favorite CMS directly from the control panel by one key. And this option is active both for tariffs of virtual Unix hosting and for a new specially developed CMS Profi tariff.
The list of CMS for automated installation includes CMS systems being most popular among Russian users and is constantly being enlarged. Installation of CMS by certain tariff depends on technical characteristics of the tariff plan and software.