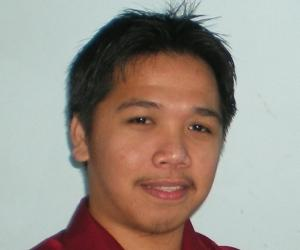 You can see some of the finest web hosting professionals interviewed in B10wH.com. Most of them are executives, founders of successful businesses, In this interview you will see bright young professional who's still have the best days of his professional career a way ahead. His name is John Raul Joven II and he lives in the outskirts of Davao City in Philippines and he has a Bachelor's Degree of Science in Information Technology.
Hi John, Tell me how did you started with computers?
My motivation with computers started when I was exposed to video games way back when I was 4 years old (specifically, Super Mario Bros. game). Until high school, I was always thinking of creating/programming my own game. It was during my high school that I got my first hands-on with a computer, and in our school, we were taught how to program in QBasic and FoxPlus languages. These instances introduced me to the world of programming and computers. I only had computer access in school.
So you have always been more a tech guy?
Yes, influenced by my wonders about computers, I was almost certain that I would take a computer-related course when I'll reach college and I did despite the heavy constraints of financial and technical resources to pursue it. I didn't let obstacles stop me from reaching my passion in the IT world. I became a working student to avail college and took Bachelor of Science in Information Technology. There, I got involved into more programming and got acquainted with more computer languages and technologies.
What kind of programming languages do you use?
In college, I learned how to program using these languages in a chronological order: C and C++ using Borland IDE; Visual Basic, Visual FoxPro, and a glimpse of Visual C++ of Visual Studio 6; and Java. In parallel with these major languages, I also learned how to construct HTML web pages, integrating JavaScript and VBScript codes to add interaction to web pages, some ActionScripting in older Flash versions and PHP. I've used MS Access and MySQL as my back-end database engines for select applications that I've developed.
My IT course culminated with a thesis called "Student Advising System" powered by VB6, MySQL and implemented through a Local Area Network.
Tell me about the new trends you see in web development. Do you see any changes the way people develop webs applications and websites? Do you know what site owners want?
Yes, compared to what it has been in the past, web applications these days are not only dynamic but they emphasize more on social interactivity and media. The web industry has matured to recognize that they build applications to present simplified solutions in a way that can be taken advantage by ordinary people and build social relationships therein.
Emerging web technology standards also have allowed people, as users, to produce their own content, establish connections, retain ownership, and in some cases, make a living by doing so.
OK. But this is a little bit complicated for anyone who is not familiar with web technologies. Let's put things this way. I'm a someone who wants to create e-commerce website and to sell something… anything. What kind of technology, framework and CMS would you choose for me?
An ordinary user without advanced technical knowledge who wants to sell something online can take advantage of open-source CMS applications that are free to use. They can use Joomla, osCommerce, and even WordPress installs, taking advantage of e-commerce plugins and extensions to sell their goods or do business online.
That's it? Anything else?
Of course, before anyone can start doing business online, they need to access services from a reliable hosting company who can back their business objectives. It's a necessity.
Tell me about Philippines? The college education is obviously a quality one, on high level… is that true?
College education in the Philippines, like anywhere else, is expensive. The quality of education is good but it depends on what school you are enrolled and the quality of instructors they employ. We generally follow the American standards and schools use English as our main medium of instruction inside a classroom, though it's not our spoken language informally.
That being said, I want to stress that the knowledge gained and skills developed are highly individually dependent though — since I truly can't assume that everyone who was able to graduate from college or university is good or "enterprise-ready."
How do you see your carrier in web business? Do you see yourself working in any other industry?
At the moment my mind and heart tells me I'll be forever attached with the web. Well, since two years, I dealt with Web, worked with the Web, and lived with the Web.
I think I'll be more involved with web business. I've always wanted to work somewhere and pull my feet off these islands, that's why I'm trying to exhibit whatever I know or can do online through my own web ventures. I want to pursue my involvement with web businesses that centers on technology, relationships, and infomation expression.
To put your feet off Philippines? You mean to move permanently or just to spend some time working in different parts of the world?
My mind tells me that [Philippines] is not a suitable place for me to advance my skills or build the future that I want. And my heart tells me I'm meant to live and work somewhere, while supporting my family back home.
I've always wanted to see new places, meet new people, working, learning, and doing business with them, and sum everything in a book when I get older. And I'm hopeful that my hard work and affinity towards the Web and computer technologies would take me there.
That's good. Tell me about the Techconclave blog. I was impressed of the quality of the videos and episodes. How much time did it take for you to learn how to make those videos?
I've learned how to create videos and how to animate when I was in college, to make my IT life more interesting since computer programing and networking can be very boring at times. My close friends decided to learn how to create videos and we tried joining some citywide inter-school graphics competition. I love videos a lot. For me, it is a perfect way to express my passion to information and to express my mind.
When I got exposed with video podcasting, I realized I could use my video editing skills to start my own show that can highlight what I can do (therefore, underlining my long-term goals). I like journalism and technology, so I decided to create a show that mixes both.
How did you came up with this idea to make this kind of web tech review. What actually is Techconclave?
There are already people, major geeks, who are doing similar thing
on the Internet. However, after observing their shows, I thought I could come up with something unique and interesting. I wanted to create a tech news video show that is powered by people who share similar passion and interests from around the world. That show, I thought, would let me meet new friends, establish new connections, learn new things and culture, and it did.
You talk to many bloggers around the world. How do you find them?
Tech Conclave is a combination of "technology" and "conclave." The latter means some sort of "secret gathering", "assembly" or "conference." I think the nature of the show coincides successfully with its name since we are a "conclave of geeks" :).
Initially I had few online friends that I met online just randomly. As soon as I started Tech Conclave and these few people learned about what I can do or the show's objectives, they told their friends and they introduced them to me so they can participate in the show. It's getting "viral" with each new episode that I release. Their friends tell their friends about the show and it goes on and on.
Do you plan to change the concept and to focus on any specific industry?
At the moment, I think it's more advantageous for the show to pursue technology news in general because the audience market is broad and the show is still on its early stages. Once the number of audience is large enough and we gain better understanding with their specific interests, maybe we can start some spinoff shows that focuses on a specific market and ultimately delivering what their specific needs.
That's it John. It was nice talking to you. At the end of the interview I want to ask you about the chickens and the foot massage scenes you featured in the funny video you made for the HP contest. Did you grow up in a poor neighborhood and what give you strengths to move forward?
Both my parents are from poor families and I remember living in slum-like place.
When I was a younger, I've only always wanted to play video games in my neighbor's "pay-for-play" video game machine, but couldn't do so because I lacked money while seeing other more fortunate kids playing happily. Because I always wanted to get my hands on a game controller, I've looked for ways on how to earn money: I climbed trees, hand picked fruits, and sold them to my neighbors and even in school. This was the first instance of finding myself an experience with business as I have to understand what people likes and how I could entice them to buy my fruits.
Some of them asked me to massaged their feet and they will buy what I was selling. So I did to complete a deal.
Another instance is when I tried to help my grandmother to have some food on their table. I sold cooked bananas throughout the village and some junked foods under the heat of the sun while seeing more fortunate people along the way. It made me acquainted with the reality of the world and that I needed to accept them in order to find a way out and not to let these circumstances prevent me from reach or getting what I want or who I want to become in life.