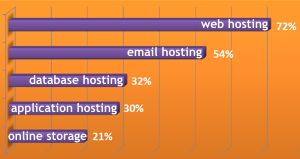 "There is a little difference between how large companies and small businesses will utilize Cloud computing", this is one of the conclusions which was made from lates survey conducted by Hosting.com. The web hosting provider with one of the most targeted names in web hosting industry has released a research paper titled – "2009 Cloud Computing Trends Report".
The driving factors for adopting cloud services are nearly the same for all company sizes, shows the poll. It laso shows that business sizes does not play a big role in the process of adoption of cloud technologies.
Another result of the survey is that leaders of smaller companies list Cloud Computing as a priority at the same rate as executives in larger companies. Small businesses are likely to receive a greater amount of IT services from a cloud platform. The survey also says that an increased education on cloud benefits, solutions and design is very important to be mastered from businesses of all sizes.
Small businesses require an immediate and measurable results from cloud-based solutions. This includes reduced costs, increased scalability, improved service level agreements for customers, and higher availability.
2009 is slated to be a banner year for cloud computing providers and solutions. Until now the expected primary source for increased revenues was large corporations, specifically for test and development environments. However, over the past several months decreased revenues and operating budgets have driven small businesses to explore and implement production cloud environments.
Services Businesses Use from Hosting Providers
As show on the graphic above 72% of the businesses said that they use web hosting, 54% use email hosting, 32% use database hosting, 30 use application hosting and 21% use hosting providers for online storage.
What "Cloud Computing" Means For Respondents?
47% of the survey respondents say that cloud computing refers to a "fundamental change in how technology services are provided". 19% said that it was a "tool that if delivered properly, can provide instant value for my company", while 9% told researchers that cloud computing was "a tool that might work for another company". 13% of the respondents define cloud hosting as "another buzzword – all hype" and 12% are unsure what cloud computing means.
The Hosting.com's document is based on data collected over a 5-week period by conducting an open survey that has 644 respondents. All of them are C-level executives and business decision makers. More that 40% of them are holding CXOs, president, vice president titles or are owner on the companies.
All major industries such as financial services, retail, social networking, health care, manufacturing, IT service providers, marketing and advertising, non-profit sector and city governments are represented in the survey.
69% of the respondents work for companies that have less than 100 employees. 11% have more than 1000 employees. 64% of survey's participants work fr companies with annual revenue less than $10 million, while 13% of them manage businesses with more than $100 million annual revenue.
Two thirds of the survey participants believe that Cloud computing will have a moajor impact on the IT industry. Contrastingly, 22% were familiar with the term but did not thing that it would provide value to their company.
Three Most important Factors To Invest In Cloud Computing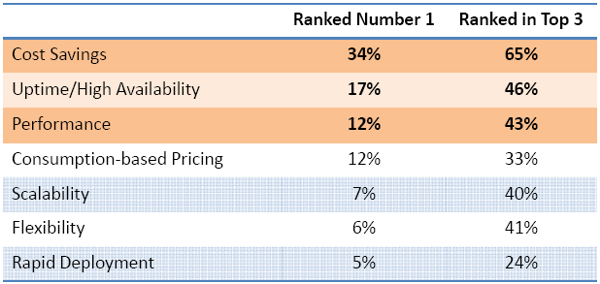 Cost savings, uptime and high availability, and performance are the key factors that make companies to start using Cloud Hosting technologies.
Obstacles Cloud Computing Providers Must Overcome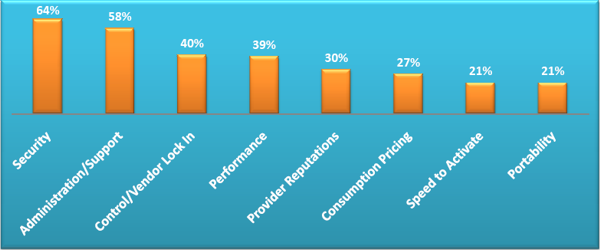 As you can see on the above graphic, the security is a top priority for businesses. Companies spend countless hours and investments to protects their data assets.
IT Services To Be Delivered From Cloud Platform (Next Year)

More than 75% of the survey respondents said that only 6% of It service they will use within the next 12 months will be delivered form a cloud platform. For 51% – 75% of the respondents the percentage of IT services from the cloud is 8%. 26% – 50% of executives responded that expects 12% of IT services to be delivered from the cloud within the next year, 10% – 25% of the respondents said that 23% of their IT services will be coming cloud computing.
Solutions Best-Suited For Cloud Computing Environment

70% of the survey participants answered that web applications are the service which is best suited for cloud hosting environment. 41% of the respondents think that their database servers should be hosted on cloud computing systems, and 37% said that they would host application server in cloud environment.
How Customers Prefer To Pay For Cloud Hosting Services?

32% of potential users of services delivered from Cloud Computing prefer to pay on monthly basis. 18% say that would go for annual contract based on their resource needs and bursting.
The results from the survey illustrates the need of additional education of the uses and benefits of the Cloud Computing. There are still a large number of people that consider Cloud Computing as a Buzzword or are just unfamiliar with the term. 36% are unsure when cloud Computing will impact their business. 12% have no intention to use Cloud Computing and Cloud Hosting services. 39% think that 1% to 10% of the IT services they use will come from a Cloud Computing platform.