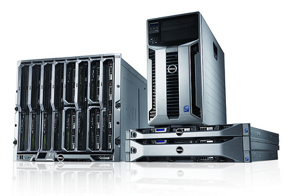 One of the world's leading server producers Dell released new line of servers, storage and system management products this week. The It giant said that its new products ease configuration and management of data center infrastructures.
Dell expects that IT companies that have tight budget budgets due to the economic slowdown will benefit from its new servers and will be able to carry out more tasks through virtualized environments. The company already said that it expects lowered hardware acquisition costs for those businesses who will use the new servers. The hardware producer also aims to equip servers and storage products with features that will help its clients to reduce power and cooling costs.
The Dell's main objective however is to help businesses to reduce system administration costs. According to the hardware producer up to 70% of IT budgets go for maintenance. The company says that its new servers make easier to configure, standardize and virtualize IT environments.
Competitors Also Announced Cost-Efficient Hardware
Dell's competitors have taken a similar approach to server management. Cisco has already announced the launch of Unified Computing System, which includes virtualization technology, services and blade servers. This was the company's entrance in the server market. Like Dell, Cisco said it aims to help enterprises to develop and manage server installations in data centers. Besides the new player Cisco, Dell also competes to HP and IBM in the server market
Its new PowerEdge 11g servers will be powered by Intel's Nehalem design. They will use Intel's next-generation Xeon processors, designed to increase servers speed and performance per watt, compared to prior Intel processors. Dell did not released more details about the new servers. the company is expected to reveal more about the new servers shortly after Intel officially launches its Nehalem-based Xeon processor.
According to the hosting industry analysts the new processors will deliver between 20% and 30% increased performance on certain applications compared to past Xeon processors.
Dell is also said it plans the release of other power-efficient storage solutions. The company has said it adds features to the EqualLogic PS6000 Series arrays, including the new SSD (solid-state disk) option, which is promoted as a device that processes data more quickly while consuming less power. The new disk-based systems are expected to have starting price at $17,000.
Dell also launches a Management Console, which brings all device and task management controls under one application. This makes much more easier the management of hardware and software resources in a virtualized environments. The company has also stopped to ship CDs and DVDs with its servers, embedding system management capabilities and diagnostic capabilities directly into the new hardware.
Pictures of the new PowerEdge 11G Server Family can be found in Flikr.