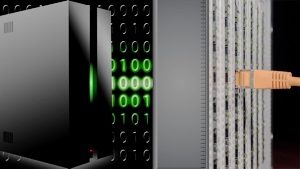 ResearchAndMarkets.com announced the release of additional research papers to its "Data Center Market in Europe 2016-2020" report. It reflects on Software Defined Data Centers (SDDC), which is considered as the latest trend in the data center services market.
A SDDC refers to a data center where infrastructure is delivered as a service (IaaS) through virtualization of physical computing infrastructure. In other words the physical hardware infrastructure is managed through intelligent software systems.
Software defined data centers supports both the traditional model of physical IT colocation (now called "legacy applications") and Cloud computing setups. On paper, SDDC improves dat center service efficiency, optimizes costs to a certain level, allows companies to provision applications and computing environments very fast, enables services such as High Availability and Failover and creates virtualized computing environments which allow companies to move their workloads in the Cloud.
The "Data Center Market in Europe 2016-2020" reports says that the number of data center construction "is growing in European countries not only because of the favorable environmental conditions for data center operations". The analysts found out that "The growth is also aided by the demand for enterprise businesses to operate business through cloud platforms and the increased need for colocation services in the region".
ResearchAndMarkets.com report also suggests that the demand for Cloud-based services is increasing among enterprises in Europe and that "the complexities associated with business applications have increased because of the enormous growth in data volumes, something that has triggered an increase in the need for construction and renovation of data centers in this region".
European Data Center Market To Grow By 10% by 2020
The reports projects that the data center market in Europe to grow at a CAGR of 10.4% form 2016 to 2020. The report covers the existing scenarios and the growth prospects of the European data center market for until 2020. ResearchAndMarkets.com calculates the market size by considering factors such as the revenue generated from the capital expenditure of IT equipment, power management systems, cooling solutions, general construction, racks, security and data center infrastructure management. It covers the market landscape and the growth prospects over the coming years. There is a discussion of the key vendors operating in this market such as: Equinix, Interxion, Colt Technology Services, Digital Realty, Global Switch, Interoute, NTT Communications.
The report is available on web address http://www.researchandmarkets.com/research/xqq229/data_center. A single user Electronic PDF costs $2,500.