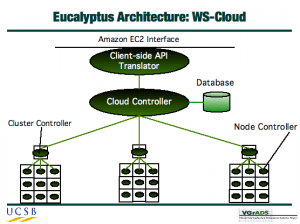 Eucalyptus, the open-source project which was the core Amazon's cloud infrastructures set up has been established as a private company, named Eucalyptus Systems. The Eucalyptus said that its new venture raised $5.5 million. The company aims to support the open-source cloud platform and  to deliver on-premise private and hybrid cloud computing solutions for large-scale businesses.
Eucalyptus is an acronym from "Elastic Utility Computing Architecture for Linking Your Programs to Useful Systems". It has recently became a component of the Ubuntu Linux server distribution.  According to company founder Rich Wolski "Eucalyptus Systems will enable businesses of any size to leverage their own IT resources to get the benefits of cloud computing without the concerns of lock-in, security ambiguity, and unexpected storage costs that can be associated with public clouds".
Eucalyptus is the only private cloud platform today that supports the same application programming interfaces (APIs) as Amazon Web Services.