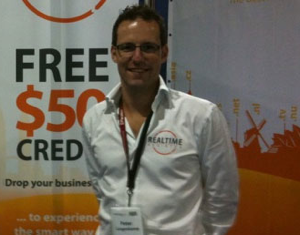 Let me first tell B10WH.com readers that I met Peter Langenkamp at HostingCon 2009 where he were attending as exhibitor with his domain registrar company called Realtime Register. I liked the design of their booth. The dutch guys are good in design, I can tell you that. There were another company from Netherlands on the show and their boot was also on of the best in the exhibitors' hall. The conference finished. I went back home and signed up on of my clients to Realtime Register and they told me they liked the way the company does business. So I decided to ask Peter, the CEO of the company to give me an interview. So here he is.
It was nice meeting you as well! Will we meet again next year in Austin Texas at HostingCon 2010?
Yes, sure. It was good to meet you at HostingCon. However, let me start  with the questions. I'm interested how did you decide to create a domain registrar? This is ugly business and there is huge competition. Why didn't you create a web host or any other kind of website service provider that would give you a higher profit margins?
Actually we have a hosting company in The Netherlands. We started YourHosting.nl back in 2000. In 2003, we had sold over 30 thousands domains and bought them at different resellers. It was a full time job for two people managing those domains and we were still growing. We decided we needed a different solution. One channel to buy domains from, offering all TLD's, at competitive prices, with a reliable interface and with API integration options. At the time, we couldn't find any, so we decided to do it ourselves. That was when the idea for Realtime Register was born. We only buy at registries and sell to resellers. We have automated the whole process, so we can be competitive.
Realtime Register offers excellent prices on COM, NET and ORG domain names. They are €5.03/year for COM and ORG and only €4.03 for .NET. for those resellers who deposit €4,000 on account. The dollars is still poor compared to euro and this means that the best price of COM registration with you is lees than $7.50…? Are sure you aren't killing yourself with this prices…?
We sell domains in the currency we buy them from at the registry. Our .com domains have a dollar price of $7.19. If you want to pay us in euro's, we exchange it at the daily exchange rate. Our margins are very low, especially at the most popular TLD's. It's the numbers that count for us eventually. Because of our discount system, the best price can be reached only with the larger deposits. That way our resellers can decide their own discounts from day one they start with using our system. Eventually, when the reseller sells more domains, he automatically will need to deposit more and will therefore get a larger discount.
Let me ask you who do you compare to other domain registrars in Netherlands? Who are the main competitors of Realtime Register?
In The Netherlands we don't have much direct competition. There are mainly hosting companies working with end users, but we consider those our potential customers. We focus on the world. We do have a lot of Dutch resellers of course.
I've seen a company called Hostnet.nl to offer a .NL domain registration at promotional price of €2.50/year. Is it usual in the Dutch web market web hosting providers to get accredited as ICANN and SIDN registrars and to underbid the domain market by offering free or very cheap domain names?
The competition in The Netherlands is very tense. Our own hosting company offers .NL domains for just €1.00/year as a promotional price at the moment. The margins are made with the hosting packages sold along with the domains, over the next 2 to 3 years. Dutch hosting companies have not yet taken the step to become ICANN accredited. They are better of buying .com at $7.19 using Realtime Register, it saves them a lot of work, time and money and they can still decide to sell domains under the market prices.
Who can own a .NL domain? Are the individual registrants required to be either a Dutch citizens or permanent residents?
Everybody can own a .NL domain nowadays. SIDN used to require a domicile address in The Netherlands, but they have now changed that.
What about the companies. Should they be a business entities incorporated or certified to do business in Netherlands to register and use .NL web address?
No, there are no requirements like that. Dot-NL has become one of the largest ccTLD's, because it does not have a lot of requirements anymore.
Let me now ask you what happens when a registrant misses the deadline to renew their domain name prior to its expiration date? Do you impose redemption fee and if yes how much is it?
NL domains have something comparable to a Redemption period, called the quarantine period. It is expensive to get your domain back, the fee for taking a domain out of quarantine is EUR 56.
If any domain is in a redemption how many days has anyone to regain their expired  domain names?
The quarantine period takes 40 days, starting directly after a delete or expiration.
Another question about expired domains. When any web address expires  and the registrant didn't renew it, what happens to the name. Are you keeping it for another year and trying to send it on aftermarket or just releases it. Most registrars keep it for an year and try resell it. What's your policy?
We don't do that at the moment.
—-
Tell me about your API. Is there anything specific your partner should know when they need to implement an synchronize it with their own websites and CRM's?
No, we offer an XML API which can be integrated on any platform. We have some php example scripts using that as well. We also have modules for 3rd party software like WHMCS, HostingController and ClientExec.
I've seen during the HostingCon on your booth and on your marketing materials that you have associated any of the domain names you offer with a specific building. Liked very much the idea. How did you came up with this one?
That was an idea of one of our design/marketing staff. We were looking for a way to visualize all the different TLD's, the famous buildings in every country perfectly represent that idea.
—-
I've seen in your blog that you sent a pretty big package with the booth elements to HostingCon. Wasn't it expensive to send this over the Atlantic to New York and then to DC? Why would you do this to yourself. Is there anythings related with the quality of the booth and design materials. You probably should admit you didn't trust Americans to design and build the booth ;)
Well, that was a bit of a disaster. We were supposed to have a very high-tech booth, with couches, espresso machines, refrigerators and orange carpet. We have used that before and it was always a great success. But unfortunately, our shipment got stuck at the US Customs. They released it on the afternoon of Wednesday August 12, the closing day of HostingCon. The booth you saw was improvised on Monday, we had some spare materials in our luggage. I'm glad you didn't notice that.
—-
And when we said America I'll ask you is the U.S. market is priority one for you or you count more on Dutch and European site owners?
We are looking at the whole world. The U.S. market is very interesting and also very competitive. We think we stand out because we have a lot of ccTLD's at very good pricing, compared to US companies.
That's it. We finished. The last question about plans for the future is always a silly one, so I'll not ask anything like this. Of course you still should have some plans how to develop the Realtime Register so, don't be shy and tell me anything that might be helpful for B10WH.com readers.
Thank you for your interest. About the near future… we are going to integrate more and more ccTLD's in the upcoming months. We are also partnering with 3rd party software to make sure we are integrated with them. Don't miss out on our SSL pricing as well! You will see more of Realtime Register, count on that! See you in Austin?