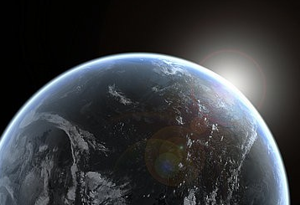 "Web-based business software sales are growing briskly, even as most of the industry stalls, as the segment pioneered by Salesforce.com Inc benefits from the weak economy and fading concerns about security", reported Reuters. According to research firm Gartner the sales of Cloud based software will grow with 22% to a record $8 billion. "We are still going strong," says Sharon Mertz, Gartner analyst who advises IT managers on software purchases. "The model is pretty solid, even in these tight economic times.", says Ms Mertz.
The rapid development of Cloud computing platforms puts pressure on established software companies such as Microsoft,  IBM, Oracle and SAP AG to play catch-up, after standing on the sidelines for most of the past decade as Salesforce and others gained credibility with corporate clients.
Many of the providers of Cloud software and Software as a Service (SaaS) host their technologies in their own data centers, offering their customers various IT services through web browsers. This model of doing computing saves corporate client and small business customers a lot of money on buying hardware and software licenses in advance and running programs on their own computers.
The SaaS model of delivering computer services through Internet begun outperforming tthe raditional model of selling software as the world economy worsened.
SaaS provider NetSuite Inc, founded by Oracle chief Larry Ellison, reported a 22%  increase in quarterly revenue. While companies like NetSuite are growing from a smaller base, their performance contrasts with a 33% fall in software revenue at SAP, a 6% drop at IBM and a 5% rise at Oracle. For example Salesforce's forecast is to post a 23% increase in sales.
Gartner analysts expects the SaaS market to grow at average annual rates of 19.4% through 2013, far above the 5.2% growth for the overall business management software market. Salesforce, whose stock has gained 40%this year, is trading at about 56 times forward earnings according to Reuters Estimates. NetSuite, which is up 48% this year, trades at a multiple of 93. By comparison, SAP, whose shares have gained 12% this year, trades for about 14 times forward earnings. Oracle, whose stock is up 7%, trades at a multiple of 13.
It was probably impossible to predict such a scenario a 10 year a ago, when Marc Benioff quit his executive job at Oracle to found web based business software business. He brought together a few programmers who worked out of a small apartment in the building where he lived. The new team developed Salesforce's first software programs for managing sales and marketing fairly quickly. The hard work was to get customers was a bigger challenge due to various security concerns.
However Salesforce gradually signed up customers, including financial institutions like Merrill Lynch and Aon, which conducted intensive reviews of its data centers. Having references from these companies helped the new enterprise to overthrow concerns about security.
Today, Salesforce counts among its 55,000 business customers including Dell, Sprint Nextel Corp, Starbucks Corp, Toyota Motor, and the U.S. Army.
"The maturity of the SaaS model has come a long way," explains Tom Hattier, an IT manager with General Electric. and adds that more and more companies have embraced it. General Electric has been using web based software for several years decided to go live last October with a corporate-wide system hosted by Aravo Solutions that manages GE's database of more than 500,000 suppliers.
However the growing popularity of Cloud class software has been boosted by innovations in Web 2.0 technologies implemented by companies like Google. The web giant sells business versions of its email, calendar spreadsheet and word processors and offers consumers, offering them extra collaboration and archiving functions.
Microsoft, which is still expected to launch its Cloud platform Azure offers online marketing software, programs targeted at small businesses and is getting ready to bring its popular Microsoft Office software online and to sell it as a service.
IBM and Oracle are alos launching new SaaS products. while SAP puts out a line of accounting programs for small to middle-sized businesses.
And a string of smaller companies sell niche software to manage sales, marketing and human resources that they hope will become the next big hit. They include ConstantContact.com, Kenexa Corp, RightNow Technologies, SuccessFactors.com, Taleo Corp, Ultimate Software Group, etc.
There are also many other new and start-up companies such as Abiquo and Daas.com,which develop PaaS (Platform as a service) solutions and have already entered the market or are about to debut their cloud software in 2009.